Welcome to Monami Construction Ltd
Your Partners in Construction
The New LIDL Store Tralee project involved the new build construction of a LIDL retail unit and all associated site works.
View Project
Dromoland Castle Upgrade Works, Phase 1, Dromoland, Co. Clare
View Project
The Epic Ireland Project consisted of facilitation & remodeling works to an existing occupied building and protected structure.
View Project
This project comprised of the Construction of a New 2 storey Carvary, Snack Bar & Restaurant including all necessary siteworks.
View Project
The Mary I Entrance Project consisted of the demolition of the existing college entrance and reception area and the construction of new extended structure.
View Project
The INVER Service Station project comprised of the Construction of a New Service Station and Food Court for INVER Energy
View Project
The Elm Park Penthouses project consisted of the completion of 18 shell and core penthouse split level  apartments on the 7th & 8th floors of a fully occupied residential block on the Elm Park Development in Dublin 4.
View Project
The Hawkridge Housing Project consisted of the development of 10 no dwellings and all associated site works at Hawkridge, Lucan, Co. Dublin
View Project
The Schrodinger Building External Works project involved a full demolition and re-roof of the Schrodinger Building and extensive external facade work.
View Project
Extension and Alterations (Fit Out and Refurbishment) to existing Building at Block 3 Christchurch Square, Dublin 8 for DDFH&B
View Project
Quality Construction Projects delivered on Time and within Budget.
Monami Construction Ltd. is a progressive general contracting company established to deliver quality construction projects on time and within budget. Our company ethos is to provide our clients with a superior construction service by continually improving our quality processes, providing exceptional project management capabilities and by adding value through proactive and innovative solutions to our clients requirements. We place a strong emphasis on ensuring that sufficient financial & managerial resources are assigned to each of our projects to guarantee successful project completions. At Monami Construction Ltd, the integrity of our staff and our completed projects form the cornerstone of our established reputation as a quality building service provider.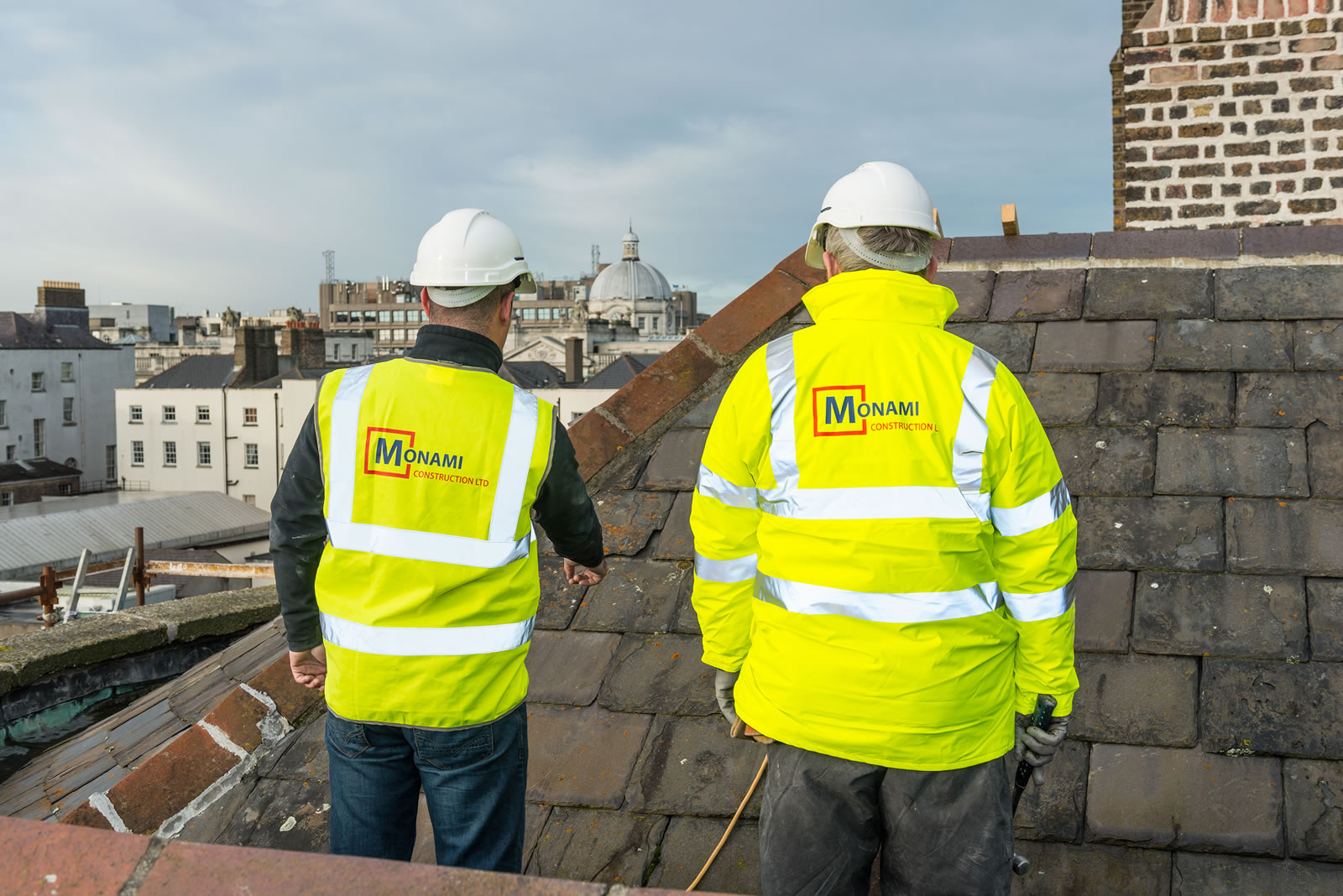 Corporate Social Responsibility
We conduct our business to to the highest standards of corporate governance and business ethics, in the best long-term interests of all our clients and stakeholders.
Health & Safety
We operate a Safe-T-Cert Certified Safety Management System and Safety Policy to ensure a safe working environment for all employees and the public on our projects.
Quality
We operate an I.S EN ISO 9001:2008 certified Quality Management System to ensure the very highest standard of service is provided to our clients.
Got a Project?
If you have a project, we'd love to hear from you.
Get in Touch
Testimonials
Our premises are a great reflection of the combined capability of all those involved in the project, and clearly demonstrate Monami's commitment to excellence. We were extremely impressed with the level of dedication of Bryan & his team in completing this project